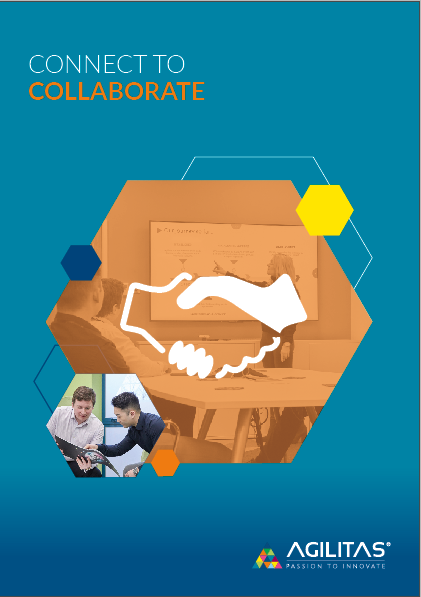 Agilitas Launches 'CONNECT to Collaborate' Guide to Help Channel Firms Survive and Thrive Through the Pandemic
Leading channel services provider, Agilitas, is proud to announce the launch of its 'CONNECT to Collaborate' guide, which is the second in the company's series of 'How-to' reports. The reports are a central part of Agilitas' channel insight campaign, 'CONNECT – Voice of the Channel', which was launched back in 2019.
The guide is based on the results of research commissioned by Agilitas, surveying leading channel decision-makers about their predictions for the future of the industry and the role that collaboration will play in this.
The research found that on average, channel leaders attribute only 17% of their revenue to collaboration and partnerships with other channel companies, compared to 25% in 2017. However, the majority of respondents expected to see an increase in levels of collaboration as they look to the future.
The most popular reasons given for partnering with other companies were that collaboration is more cost effective (according to 41.1% of respondents), and speed/efficiency (also selected by 41.1% of respondents). Other reasons included keeping up with regulation, and meeting customer demand.
"It has always been clear that collaboration is one of the ways that our industry differs – and stands out – from others, and the COVID-19 crisis has illustrated this more clearly than ever. Collaboration is inherent in the very nature of our industry; even the way we refer to other companies as 'partners', and our relationships, or 'partnerships' with them, shows how collaborative the channel is," commented Shaun Lynn, CEO, Agilitas. "Although it is surprising to see that the amount of revenue attributed to partnerships has decreased since 2017, it is heartening to understand that channel leaders expect this to increase in the coming months and years. Working closely together to expand propositions is the only way channel companies will be able to survive and come out of the other side in the best possible health."
As well as investigating the state of collaboration in the industry at the moment, the report also investigates the top advice from channel decision-makers about how best to collaborate. The most popular piece of advice was 'Businesses must identify the core services they can continue to deliver for current customers, while also looking at those solutions that will need to be outsourced to strategic partners' – recommending that firms should be cautious not to rely solely on partnerships, nor solely on their own solutions.
For the Connect to Collaborate report, Agilitas surveyed 250 channel leaders working in UK-headquartered businesses, with an annual turnover of over £5million. The results within the report are the findings of this commissioned research, carried out in partnership with leading research firm Opinion Matters in 2019.
Agilitas will be releasing further findings in an upcoming 'how-to' guide, 'Connect to Transform'. To request your free copy of the full Connect to Collaborate report, please visit THIS PAGE