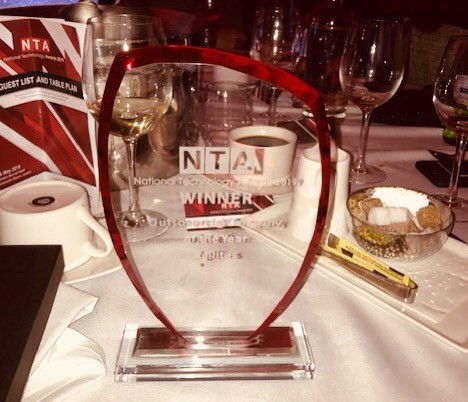 Nottingham-based, global IT channel solutions provider, Agilitas IT Solutions, has won the Outsourcing Company of the Year award at the 2019 National Technology Awards.
Held at London's Marriott Hotel on 16th May, the 3rd annual gala dinner celebrated the industry's pioneers, innovators and forward thinkers who have made an outstanding technological contribution to customers in such fields as finance, travel, gaming, IoT and analytics. The awards are one of the most comprehensive celebrations of technology in the year.
Agilitas was awarded for its on-demand Inventory-as-a-Service (IaaS) solution, available to its clients internationally.  Working with partners in over 60 countries, it provides an integrated, end-to-end parts storage, testing and delivery facility, in addition to first-class maintenance support.
"We are honoured to have been awarded Outsourcing Company of the Year in this year's National Technology Awards; we are all so grateful for this recognition," comments Shaun Lynn, CEO of Agilitas. "It's delightful to be recognised for delivering our Inventory-as-a-Service solution to our customers, something which is unrivalled in the market."