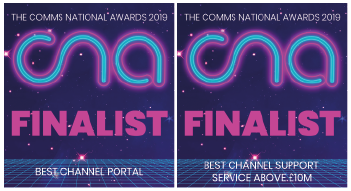 Global IT channel solutions provider, Agilitas, has been shortlisted in both the Best Channel Support Service and the Best Channel Portal categories in this year's Comms National Awards.
The Comms National Awards are now in their 17th year and saw a record number of entries across the board. The awards ceremony, held at The Hilton Hotel on Park Lane on Thursday 10th October, will recognise the stars of the IT Channel and award examples of excellence within the industry.
Agilitas has been shortlisted  in the Best Chanel Portal category for its innovative new pricing tool, AssureMeNow. This is the channel's first services online pricing tool for IT hardware maintenance services. By using AssureMeNow, Agilitas' partners have been able to reduce the turnaround time on quotes from hours, and sometimes days, to only minutes.
Agilitas is also a finalist in the Best Channel Support Service category, for the way it places is customers at the heart of its business. Agilitas' focus when developing new solutions and improving existing ones is always on how they will benefit their channel customers by providing an improved business outcome for the end user.
"We're honoured to be shortlisted for two categories in this year's Comms National Awards. This marks the third year in a row we've been shortlisted for these prestigious awards, which is a testament to the way we continue to innovate and remain relevant in the IT Channel," comments Shaun Lynn, CEO of Agilitas. "At Agilitas, we pride ourselves on service excellence, and we're proud that our new AssureMeNow platform is being recognised for the benefits and value it brings to our channel partners."