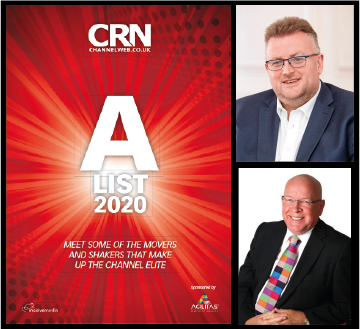 We're proud to announce that Shaun Lynn, our CEO and Tom Kelly, Chairman of Agilitas, have been recognised in CRN's 2020 A-List.
The CRN A-List is an annual guide that includes the most recognisable individuals in the UK channel. The list includes profiles of the professionals named on this year's A-list, giving an insight into their personalities, as well as their business. This year's list sees 144 leading channel execs quizzed on their dream career as a child, their personal highlight of 2019, and the TV show they have binge watched this year.
The list changes every year to reflect the constantly evolving channel, so it was a real honour that both Shaun and Tom were featured in the 2020 edition after both were featured in the 2019 A-list last year. This is a testament to both Shaun and Tom on their continued support and dedication to the industry.
In his profile, Shaun mentioned his biggest personal achievement was the growth of Agilitas over the past year, in particular their digital transformation of the business.
For Tom, being listed in the 2020 A-list comes after he was awarded an OBE earlier in the year for his services to the information and communications technology sector in Wales. Despite this, in his A-list profile, Tom said that his personal achievement of 2019 was seeing the smaller cloud 'born' partners thrive and be clever.
"It is an honour to be named in CRN's A-List for 2020 amongst such other inspirational professionals within the industry. Seeing a list of influential people who give so much to the industry encourages us to work even harder as a company to develop and innovate further," Shaun commented on the recognition.
Tom commented: "It is always a pleasure to be recognised within the industry and celebrate the hard work that all the individuals listed are contributing to the channel industry. Seeing all the personal achievements is so inspiring and a great reflection on the transformation that is happening within the channel."
Read Shaun and Paul's full CRN A-List profiles along with the others listed here: https://www.channelweb.co.uk/series/profile/a-list