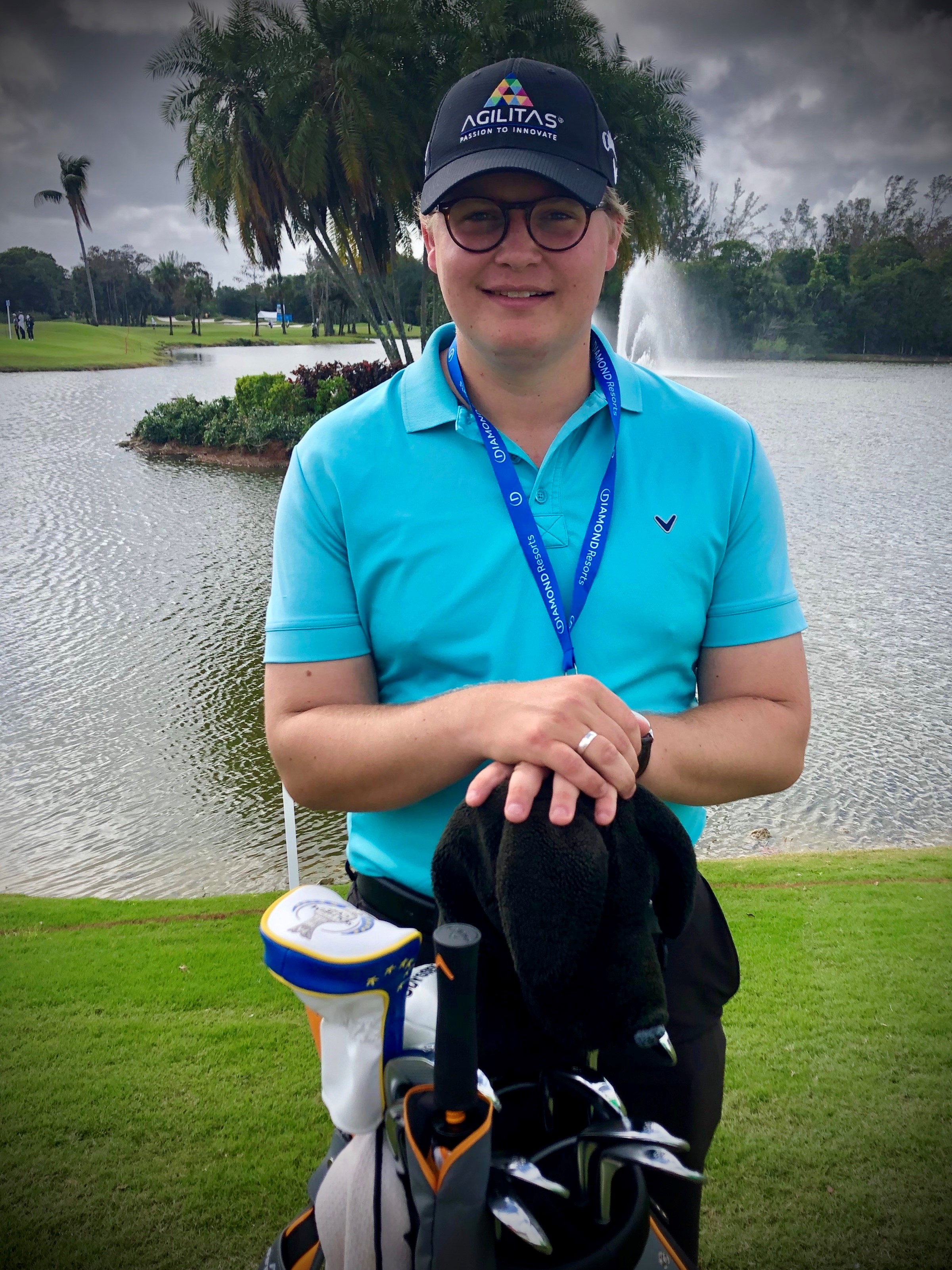 Leading global channel services provider, ​Agilitas IT Solutions​, is proud to announce its new brand ambassador, Harry Tyrrell, regular caddy of Women's British Open Golf Champion and existing Agilitas brand ambassador, Georgia Hall.
Harry Tyrrell started off his golfing career as a teaching professional at Hindhead, having attended the LPGA qualifying school, one of the longest-running professional sports associations in the world, along with Georgia. After his professional coaching days in Surrey, Harry quit his job to start travelling the world as the regular caddy to Georgia Hall, who has been an Agilitas brand ambassador since January 2019.
 Whilst caddying for Georgia, Harry will be wearing a cap adorning the Agilitas logo.
Agilitas is the leading global innovator of customer-driven IT channel services, working with partners across 60 countries, including IT resellers, managed service providers and vendors. It delivers services including maintenance services, professional services, technical support, training and lifecycle services.
Shaun Lynn, CEO of Agilitas, commented: "We are delighted to welcome Harry into the growing Agilitas family. He will make a great brand ambassador for Agilitas alongside Georgia. Harry's professionalism, ambition and passion to succeed is truly inspiring, and reflects our core principles at Agilitas. Georgia and Harry make a great golfing team who have experienced a lot of success in a short space of time and I'm sure this is just the beginning of a long and successful sporting career together."
"I am thrilled to be a brand ambassador for Agilitas." said Harry Tyrrell. "Agilitas is such a great company, and to be supported by such a driven and passionate business is a fantastic feeling. This is an extremely exciting opportunity, and I'm looking forward to teaming up with Georgia as Agilitas brand ambassadors. I can't wait to start our partnership."
Georgia Hall added: "It's great to have Harry join the Agilitas family, as my fellow brand ambassador. Harry provides great support and guidance in order for me to succeed on the course and I'm sure he will use these attributes to become a fantastic brand ambassador for Agilitas."