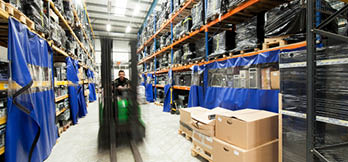 Inventory-as-a-service is emerging as the solution to better inventory management. The growth of the cloud, evolution of the mobile workplace and a greater dependence on IT have all altered demand for IT spares. An extended period of downtime as a result of failed hardware will be financially problematic to any company. Research commissioned by Agilitas estimates that 54% of end users could lose between £10,000 and £1m from just one hour of system downtime. Having the right IT parts available when required is becoming ever more important to businesses. This status quo puts more pressure on resellers, service providers and OEMs to better provision for faults and provide customers with an effective service. Inventory-as-a-service from a trusted partner can go a long way to help achieve this. These are the key benefits:
Maintaining a IT hardware spares inventory has always been a high cost area for businesses. According to Agilitas research, nearly 30 per cent of resellers and service providers are spending over £50,000 a year on spare inventory for customers, with the figure rising to over £1 million in 20 per cent of cases.
The cost of inventory-as-a-service is usually benchmarked as an operational cost that doesn't change – an approach in line with changing customer demand according to CISCO chief Chuck Robbins, who recently commented customers are "fundamentally more concerned about the operational costs of their IT infrastructure than the capex."
IT parts expenses can be reduced
Keeping costs down and driving efficiency are two of the most vital qualities of any business. Provisioning for any spare part that might be needed is always going to be expensive, especially as there is rarely any indication as to what will be required when. Parts are therefore often going totally unused. Our research tells us that a quarter of providers are spending hundreds of thousands of pounds just to keep up with customer requirements for IT spare inventories. At what point does this go from being a simple budgeted overhead to an increasingly unavoidable cost that threatens a company's growth plans?
A good inventory-as-a-service partner will have their own multi-vendor/multi-technology repair centre and test rigs. These ensure parts are reused, reducing waste, unnecessary expense, and driving down operational costs further.
Business is being conducted more quickly, and as a result customers are demanding instant inventory services. Whereas previously, 4 hour service level agreements (SLAs) were the norm, this has quickly been halved to 2. High speed delivery is essential to maximising uptime. However, the potential fallout from any failure to meet SLAs can be significant, which is where leading inventory-as-a-service partners can be pivotal.
For OEMs, service providers and resellers alike, ensuring the right support is in place can determine the success of a product or overall IT service. The logistics and management behind IT services are all invisible to the customer most of the time, but when required, performance needs to be meeting SLAs 99% of the time regardless of technology or vendor.
One of the lesser recognised benefits of working with inventory-as-a-service partners is the training they can provide. Good partners enhance the ability to meet 2 hour SLAs by upskilling existing service providers field engineering teams and on-site technical staff to resolve an increasing number of faults themselves. The inventory partner will ensure an IT spare part is rapidly delivered to the customer site and a member of their technical staff will swap it for the faulty one with the knowledge that additional technical resource is on-hand should it be required. This means that costs can be significantly reduced as less callouts are required, whilst helping to keep downtime to a minimum and increasing operational efficiency.
In addition to upskilling existing staff, inventory-as-a-service partners are able to deliver rapid fault resolution by carrying them out remotely. Skilled engineers can take a member of on-site staff through a simple process to ensure network fault resolutions can be made with minimal outlay, often without a site visit. Equally, as we become more dependent on technology, downtime can significantly be reduced as an experienced remote engineer can be working on getting something fixed within seconds of it going wrong.
Managing inventory is always going to be a challenge for a non-specialist business as getting the correct ratio of spares to existing technology is expensive, and engineers in the right place and time don't come cheap either. Ultimately, the key benefit of inventory-as-a-service is maximum uptime. Spares are delivered, and parts and networks are repaired quicker than any alternative. The need to explore a high performance, efficient and cost-effective inventory–as-a-service-solution is now greater than ever, not only for end user companies but their IT service providers.